Summer is here and all signs point to the long awaited break you have been dreaming about and you deserve a ROYAL treatment at the Kaldan Samudra. The palace is a perfect location for couples and families to spend quality time. Check-in your very own pool facing luxury villa and unwind and treat yourself with some TLC by the beach at iconic Mahabalipuram. Here are some fun things you can do during your stay:
Sunrise Yoga
Start your morning with a splendid view of the sunrise by Bay of Bengal on our terrace overlooking the ocean. We have a special sunrise yoga session guided by gold medallist yoga guru. We provide eco-friendly cork mats and healthy shot packed with vitamins to give you that extra boost.
* Complimentary for all residents
Grand Breakfast buffet
A wholesome breakfast is the key to a happy day. We offer a wide spread of fresh fruits, muesli, confectioneries, freshly baked bread, cheese and eggs, as well as a scrumptious south Indian breakfast dishes at our live counter.
* Complimentary for all residents
Take a dip in the largest Swimming Pool in Tamil Nadu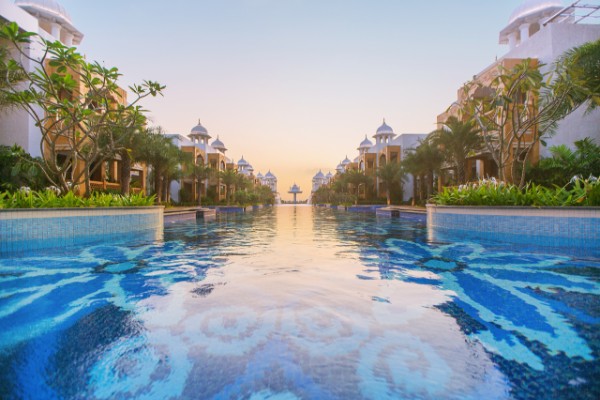 Spend the whole day at our grand swimming pool that stretches across the palace. It is renowned to be one of the largest pools in Tamilnadu, the crystal clear cool water gives you the ultimate relaxation. The extensive lawn overlooking the ocean is a perfect place for kids to play and the pathway is bicycle friendly.
Royal High-Tea
Unwind under the mini Taj Mahal by our splendid terrace and enjoy the performance by our Rajsthani Langa singers and Kalbelia dancers as we serve you refreshments and snacks.
* Complimentary for all residents
Gazebo Dinner
We organise special dinners under the beautiful lit gazebo on the lawn and the sea side. This is one of our special features, makes a perfect mood for proposals, or just to spend quality time with your special someone.
Book your holiday now
Contact: +9144 45681000
Email: reservations.samudhra@kaldanhotels.com
Tags:
Summer break, beach holiday Chennai, resort with swimming pool mahabalipuram, best resorts in mahabalipuram , hotels in ecr Chennai, mahabalipuram resorts near beach, ecr beach resorts with swimming pool, beachside hotels in mahabalipuram, mahabalipuram beach resorts for family, beach resorts in chennai for day outing, 5 star hotels in mahabalipuram, best resorts in chennai for couples, sea facing hotels in mahabalipuram